Try the most popular word games such as Scrabble, crossword puzzles and finding words in a pleasant virtual place available on any device. WordScramble.eu experience is unique with the selection of html5 games prepared for you ready to decipher them like a puzzle with your friends. Choose carefully what you want to play and the relaxation will start immediately, from trivia to outspell and anagram crossword, we have everything you want about words and letters games. The main game is scramble words, a game that we recommend being one of the most successful in this kind.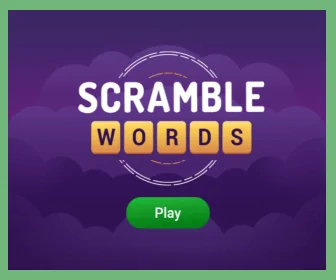 Word Scramble and Word Games
If you still came to this site to scramble your word, try our scrabble and crossword games available at any time for your daily fun. You can play with friends or family the following games listed below and at the same time take advantage of a word generator to make your game easier. Word Scramble will help you get the right word for your puzzle.
Word Scramble Online
By solving these word games, you will be able to train and develop your general language and knowledge using word scramble. Your vocabulary requires a long and correct training, and these puzzle games contribute significantly to your language education. You will better adapt to the virtual space by learning to type like a typist in his field. Word Scramble website let new personal records with these word games and discover new challenges you can share with your friends. We are constantly looking for new word games to your liking to have a pleasant stay on this website. Do not hesitate to contact us if you have a scrabble game and want to post it on this word scramble website. Here you have the simplest and easiest way to access scrabble online.