Play online during your break a short game of scramble words to relax and forget about everyday worries. This will keep your mind trained and ready for any new project at school or daily job. Experience this unblocked scrabble where you have to create sets of words to earn as many points. All you have to do is to use your mouse to drag and put each piece from the menu on the board to form strings of words. Do not forget it's just a word scramble, for other full versions you can try the other word games on this website. Invite your friends to a challenge to see who makes more points in a short time.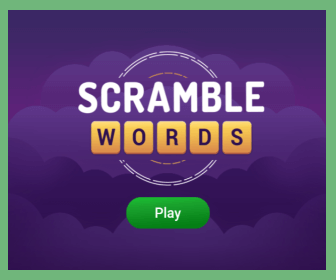 Scramble Words
If want to play with words and you are alone just try this online version of scramble against computer, try it and see if you like. Is easy to play, select letters and create new words to earn points. Use your mouse to arrange letters inside the boxes to fill them all. Time is short, submit the word to see the score you've done.
Disclaimer
This is a free word scramble website and is not endorsed or affiliated in any way with other trademarks.
privacy policy - contact - sitemap
© 2019 | WordScramble.eu